Welcome to Woodbourne Chiropractic Center!
Your Levittown Chiropractor
Call us at (215) 946-9445 today.
Holistic care for your body
Relax and let our licensed chiropractors and massage therapists ease the pain out of your muscles and joints. We're here to take care of you.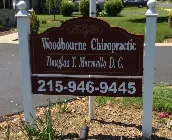 20 years in business
With decades of experience, you can trust that we know what we're doing. We'll always explain our process.
Affordable care
We offer reasonable rates and accept most insurance so that cost is not a barrier to the care you need.
Gentle and targeted
We use gentle yet specific chiropractic techniques to target the specific problem areas in your body.


Learn More
Talk to one of licensed chiropractors about the different treatments options we offer.
Call Now: 215-946-9445
We sell a variety of high quality health and wellness products so that your healing continues after your visit.
✔ Pure Encapsulations
✔ Shaklee
✔ Metagenetics
Come visit us to explore our product selection.